Islamic State group (IS) members and their families have been fleeing the group's last sliver of territory in eastern Syria, as US-backed militia advance towards them.
Men, women and children, some with serious injuries, others describing running out of food, have been leaving the group's rapidly shrinking enclave, which the US military on Tuesday said amounted to about 50 sq km (20 sq miles).
They have been arriving at the village of Baghuz to surrender to the US-backed Kurdish-led Syrian Democratic Forces (SDF).
On Wednesday US President Donald Trump said said territory held by the Islamic State group in Syria and Iraq could be "100%" liberated as early as next week.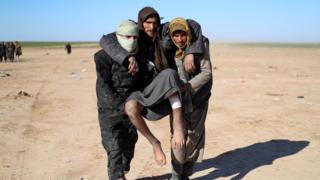 Many of those arriving in Baghuz have injuries, including those sustained from incoming strikes by the array of forces battling IS.
SDF commanders were negotiating with IS over a possible deal to free several SDF members held captive by IS and possibly give the militants safe passage to the province of Idlib in north-western Syria, which is not under Syrian government control, the New York Times reported.
Continue Reading This Article At BBC News