British mountaineer George Mallory took his last breath on the imperious slopes of Everest in 1924.
But three years before that, he made history as part of the first British reconnaissance expedition to the world's highest peak.
Led by soldier and explorer Charles Howard-Bury, this was the first group of Westerners to set foot on Everest.
Mallory and fellow climber Guy Bullock made it 23,000ft up the mountain via the North Col, on Everest's north ridge, before searing winds forced them to turn back.
Their journey proved that there was indeed a path to the top of the world. These are the pictures they took on the way:
The rocky shot below was captured on the Kyetrak Glacier on Cho Uyo, a mountain whose name means Turquoise Goddess in Tibetan. The peak is the world's sixth-highest.
The team were lucky to get it, as they encountered some early technical difficulties. Specifically, Mallory realised a month into the trip that he had put the glass-plate negatives in his camera the wrong way round.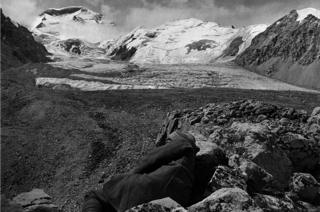 He had…
Continue Reading This Article At BBC News